Ideal for riders looking for new training inspirations and wanting to make their first tracking experiences to work even more methodologically and thoroughly with their horse.
What is the Equisense App?
A free training app where you can find over 300 exercises and programs to get inspiration for your training. Furthermore, you can add health care treatments as well as training activities in the calendar in the app. Start with your first tracking measures thanks to the exhaustive GPS tracking in the app.
Access a large variety of measurements with your phone!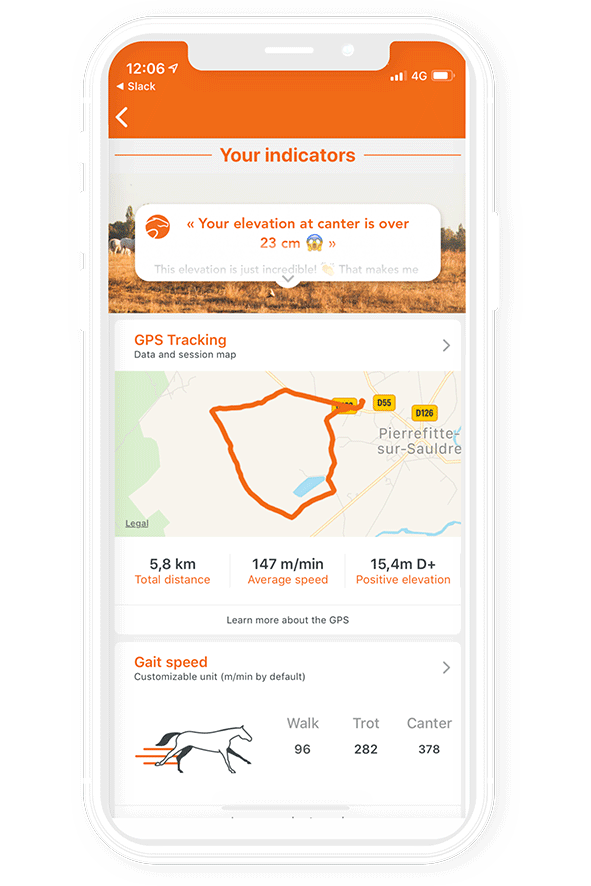 Visualize your ride on a customizable map.

Measure the total distance of your hacks.
Measure your average speed.

Analyze the changes in hight during your hack.

Training exercises & programs
Discover over 300 free training exercises and entire programs in the app.

Note your horse's health care treatments and workouts in the app to always have them at arm's length.

Better collaborate with your riding friend, vet or trainer by sharing your horse's data.
You want to go one step further? Get your horse fitness tracker!
Over 20 more indicators to analyze your horse's physical condition and assure its well-being.
Frequently asked questions (FAQ)
Q: How many horses can I record?
An unlimited amount of horses. Simply create one profile per horse.
Q: Is there a monthly fee to pay?

There is no monthly fee. The app is 100% free and available for iOS and Android.
Q: Do I need an internet connection to record?

You do not need an internet connection to record your training. You simply need to keep your phone with you while recording as we use the GPS signal of your phone.
Q: Is the app available for my phone?

The Equisense App can be downloaded on the app and google play store and works for android as well as iPhone.
Q: How does the GPS tracking work?

Simply open the app, click on "record" in the menu bar in the app, choose GPS tracking and click on the button "Start a GPS session". Keep your phone with you while riding and get data in real time and after your session to work on your horse's physical condition and health.